SUMMATIVE ASSESMENT -III - G.O.Ms.20 - GUIDELINES
* 1st Class Summative Assessment III Download
* 2nd Class Summative Assessment III Download
* 3rd Class Summative Assessment III Download
* 4th Class Summative Assessment III Download
* 5th Class Summative Assessment III Download
* 6th Class Summative Assessment 3

Languages

Download


* 6th Class Summative Assessment 3

Non - Languages

Download
* 7th Class Summative Assessment 3

Languages

Download


* 7th Class Summative Assessment 3

Non - Languages

Download
* 8th Class Summative Assessment 3

Languages

Download


* 8th Class Summative Assessment 3

Non - Languages

Download
* 9th Class Summative Assessment 3
Languages
Download
* 9th Class Summative Assessment 3
Non - Languages
Download
Primary School New Time Table.
AP Govt Rationalisation Draft 2015
2015-16 Acadamic Calenders Primary UP / High Schools
Promotion lists preperation guidelines - PS,UPs abstract forms
Rc.27SSA SA 3 EXAMS SHEDULE.
Rc.305 Subject Wise Distribution of Work in Primary Sections New Guidelines
HM_test__form. PAT-form-2014 GRADING TABLE.
తరగతి కాల నిర్ణయ పట్టిక. DSC-2014 dist wise Vacancy.
ఉపాధ్యాయమిత్రులు ఉచితమెస్సేజ్ల కొరకు మీ మొబైల్ నుండి SMSచేయండి
@FOLLOW MAHESH4AP అని టైప్ చేసి 51115 నంబరుకు SMS పంపండి
MODULES&MODEL Q.P.
MODEL QUESTION PAPERS-CCE MODEL

Guidelines to prepare Summative question papers
Rc No:925/RVM Guideline to CCE
Evaluation Process
Model Student Progress Report Register
Downloads

The acronym of CCE is Continuous Comprehensive Evaluation.The newly educational system is introduced by Central Board of Secondary Education in India, for the classes' first to tenth. With the help of CCE a Teacher can evaluate every aspect of the child during their presence at the school. This might reduce the burden on the pupil not only in the at the time of examination and also before examinations as the student have to face many tests throughout theacademic year, of which no test or the syllabus covered will be repeated at the end of the year. The method CCE has brought new changes from the traditional method of teaching provided it is implemented accurately. The same system also adapted by Andhra Pradesh Government in the form ofRVM(Rajiv Vidhya Mission) . The model question papers of various exams as follows.
CCE Hand books and Modules for Teachers
CCE useful Hand books for teachers
On the basis of guiding principles of NCF 2005, RTE 2009 and SCF 2011, the new textbooks are designed. The new textbooks have been developed on linking the classroom experience with the real life experience which the pupil faced outside the classroom. With the specific features or indicators the holistic treatment of language certain discourses are identified for Primary and Upper Primary level classes. The entire classroom process is aimed at achieving the targeted discourses. A detailed transactional process has been suggested to achieve the discourses targeted in each class.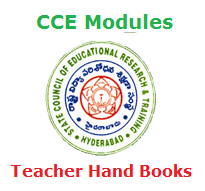 The modules which is provided to teachers, contains the classroom transactional process for all classes. The identified discourses in each reading slot/segment, a detailed discourse process for oral and written discourses, classroom theatre, teacher development and CCE based model question papers. A special package to bridging the gap is also included for acquiring the minimum competencies among the children in developing discourses like description, conversation and narrative or story before starting the transaction of units.
This provided module would certainly help the teachers to follow the transactional process in achieving the academic standards in all classes among all children. The SCERT AP Hyderabad appreciates the efforts of the members of the textbook development committee in developing this handbook for the benefit of the teachers.
Here are the list of hand books related to CCE, click the link to view and download
RTE Act 2009-Quality Issues-Teachers Handbook

View/Downloa

CCE General Module

View/Download

PS Level Hand Book for Maths Teachers

View/Download

Primary EVS Updhyayula Karadeepika

View/Download

Primary Teacher's Handbook on New English Textbooks of classes I to V 2013 View/Download

Primary Telugu Updhyayula Karadeepika

View/Download

Primary School Module in Urdu

View/Download

UP Level Hand Book for Maths Teachers

View/Download

Maths Module for UP level RP'S

View/Download
GRADING IN FORMATIVE AND SUMMATIVE EVALUATION 2013 AS PER RC.925
| PERCENTAGE | GRADE |
| --- | --- |
| 91-100 | A+ |
| 71-90 | A |
| 51-70 | B+ |
| 41-50 | B |
| 0-40 | C |
CCE Formative Assessment
CCE Formative Assessment - Tools Formative Evaluation In Continuous Comprehensive Evaluation(CCE) is a newly introduced educational system. With the help of CCE a teacher can easily evaluate every aspect of the student. It is completely different from traditional Chalk and Talk method. In this CCEsystem, two types of assessment will be taken by teacher to assess the performance to the student in the concerned subject.
The first assessment tool is Formative Assessment and another is Summative Assessment. Formative Assessment is a tool used by the teacher to continuously monitor a student's performance in a supportive and non–threatening environment. By taking regular descriptive feedback, a chance for the student to reflect on the performance, take advice and improve upon it. It can improve student performance, self-esteem of the child and reducing the work load of the teacher.
Top features of Formative Assessment
With the help of Formative Assessment can carry out during a course of instruction to provide continuous feedback to both the students as well as teachers, to take decisions regarding appropriate modifications in the learning procedures and learning activities. It involves students' being an essential part of assessment. Students must involve in a range of activities right from designing criteria to self-assessment or peer assessment.
Tools Formative Evaluation
Diagnostic and remedial.

Makes the provision for effective feedback.

Enables teachers to adjust teaching to take account of the results of assessment.

Provides the platform for the active involvement of students in their own learning.

Recognizes the need for students to be able to assess themselves and understand how to improve.

Recognizes the profound influence assessment has on the motivation and self-esteem of students, both of which are crucial and influences learning.

Encourages students to understand the criteria that will be used to judge their work.

Offers an opportunity to students to improve their work after feedback.

Builds on students' prior knowledge and experience in designing what is taught.

Incorporates varied learning styles into deciding how and what to teach.

Helps students to support their peers, and expect to be supported by them.

Daily observation.

Oral work(Question answer, loud reading, dailogues/conversation, roleplay, interview, group discussion, etc.).

Practical / Experiments.

Activity(Individual, Group, Self Study).

Project work.

> Conductig Tests(Informal small duration written tests, open book, etc.).

Home work/ Class work(Informative, descriptive, essay, report, story, letter, dailogue, expressing imagination, etc.).

Others( Questionnaire, self evaluation, peer evaluation, group work and other similar tool).
ఉపాధ్యాయమిత్రులు ఉచితమెస్సేజ్ల కొరకు మీ మొబైల్ నుండి SMSచేయండి
FOLLOW MAHESH4AP అని టైప్ చేసి 53OOO నంబరు కు